Panoramic Video Installation at the Taganka Theater
To the 100th anniversary of Yuri Lyubimov, United 3D Labs has developed a unique video installation in the foyer of the theater. Yuri Lyubimov, a Russian stage actor and director associated with the internationally renowned Taganka Theatre, worked in his office for more than half a century, its walls still keep the memories enclosed in the autographs of famous people, guests of the great director.
Vladimir Putin, Fidel Castro, Andrei Tarkovsky, Yuri Gagarin, Yevgeny Yevtushenko, Alfred Schnittke, Ernst Neizvestny, Bella Akhmadulina, Arthur Miller, Tonino Guerra, Anna Magnani, Laurence Olivier... The list is literally endless. What do these famous people have in common? They all left of inscriptions on the walls of the office of the head of the Taganka Theater. Andrey Voznesensky started the tradition. His autograph was the first one. The inscription over the desk says: "All goddess are like toadstools compared to the women of Tagansky Theatre". That's how it all started.
Now in the foyer of the theater was turned into a huge screen with the help of a 360° projection. Autographs come to life together with their authors around the viewer.
The beam of the famous flashlight of Yuri Lyubimov slides over the walls, highlighting milestones in the history of the theatre: wall posts, personnel news, photos. Twelve projectors create a single artistic canvas that captures the entire space. A powerful final chord of the anthem of the Taganka Theatre is performed by the legends theatre: Vladimir Vysotsky, Ivan Bortnik, Leonid Filatov, Ivan Dykhovichnyi. As they sing "the theater is alive while it's on the road, in search..."
Several hundreds of hours of unique archival videos, thousands of photos, a lot of audio interviews were processed, interpreted and united in a powerful action. Beautiful and sensual music was written especiallly for the film and adapted by the sound engineer to the historic foyer.
The work of the installation is supported by a complex technical mechanism of two powerful computers and twelve projectors. The video with the resolution of more than 20K was demonstrated with the help of Ventuz professional software and two graphics cards AMD FIREPRO W9100.
For better convenience, we placed the main control functions in a multi-button presenter.
You can edit the schedule of video installation, turning on and off the projectors installed in the Taganka Theater with a convenient web administrator panel, which works perfectly even from a mobile phone.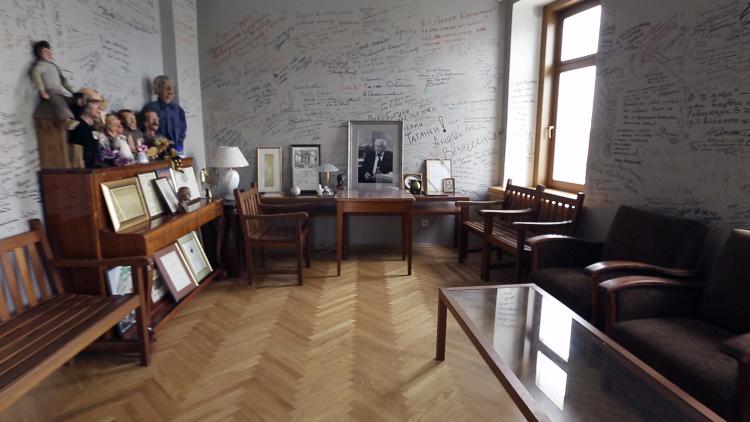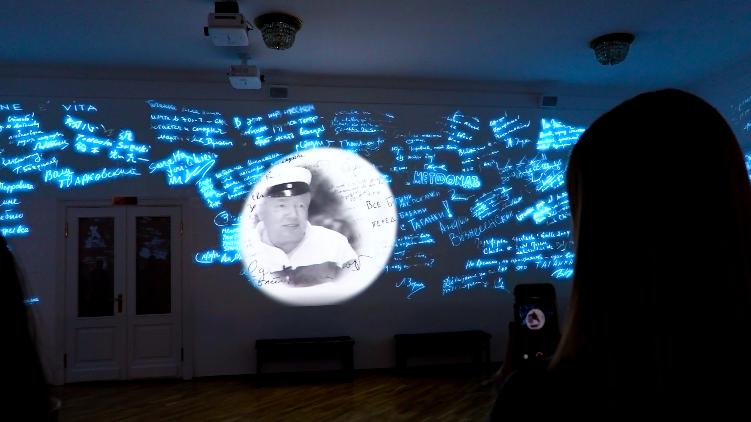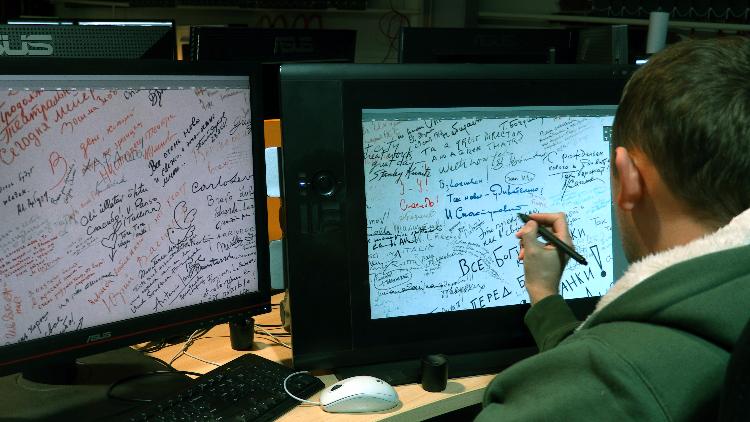 You are welcome to be our guest! We will be happy to discuss your ideas in our demo-room, help you to choose the solution which fits you best and demonstrate our works.
Call us

Email us
You can get to know United 3D Labs better if you visit About us section